See what low lift, high impact really means
Contact us to get started
Research shows the ParentPowered approach can lead to 2-3 months of additional growth over the course of a school year.
ParentPowered Core delivers a complete whole child curriculum to families via text messages, the most universally-available technology.
Each message supports healthy child development with actionable insights, research-based activities, and learning extensions that are:
Fast and fun to do, for kids and their grownups
Accessible to everyone

— no extra materials required

Strengths based, building on existing family routines
Tailored to each child's age, from birth to Grade 12.
Which is why parents and caregivers say that ParentPowered gives them that "I can do this!" feeling.
Support Families in their Home Language
ParentPowered Core provides culturally-responsive support in English, Spanish, Chinese, Arabic, Vietnamese, Hmong, Russian, Polish, and Burmese.
Interested in supporting families in another language? Reach out to discuss your community's needs.
The Core Family Engagement Curriculum
Developed by educational researchers, the ParentPowered Core family engagement curriculum is designed to provide parents and caregivers with age-differentiated insights, activities, and learning extensions.
The Core curriculum is aligned to the learning standards of all 50 states, ESSER, Title I, III, IV, and V, and the Head Start Early Learning Outcomes Framework, PFCE Framework, and Quality Improvement initiatives.
Ages 0-3
Social Emotional Learning

Approaches to Learning

Language & Literacy

STEAM & Play

Physical Development
PK3 & PK4
Social Emotional Learning & Health

Language & Literacy

Math & Science

Technology and Engineering & the Arts

Play

Approaches to Parenting

Home & School Connections
Kindergarten-5th Grade
Social Emotional Learning

English Language Arts

Math & Science

Approaches to Parenting

Home & School Connections
6th Grade - 8th Grade
Academic Supports

Social Emotional Learning

Home & School Partnerships

Approaches to Parenting
9th Grade - 12th Grade
Academics & Lifelong Learning

Well Being & Life Skills

College & Career Readiness

Home School Partnerships

Approaches to Parenting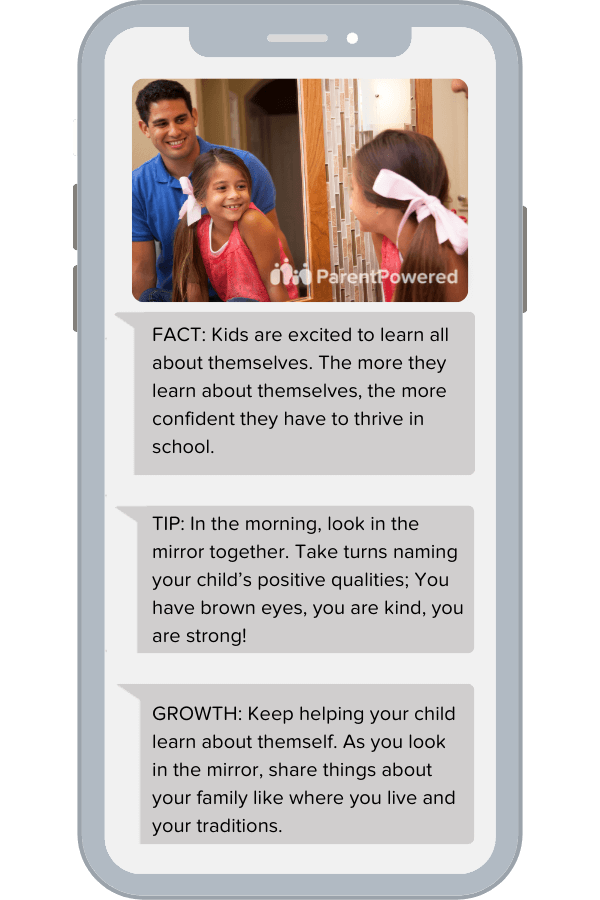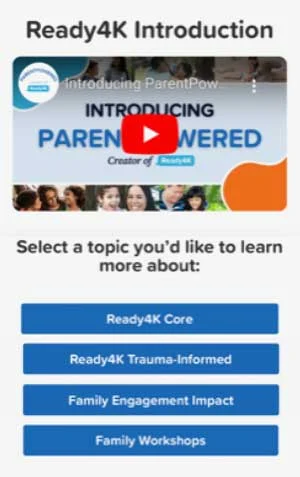 See Why Educators Love ParentPowered
Take a self-paced tour of the ParentPowered programs to answer questions like:
How does the evidence-based methodology work?
What do the families receive each week?
Which skills and content areas are covered in each curricula?
How do the curricula support classroom learning?
What does the implementation process look like?
What kind of data and reporting is included in the program?
Preview Sample
Messages
Check out ParentPowered messages for yourself. Each message is strengths-based, easy to understand, and gives families that "I can do it!" feeling. All while strengthening parenting muscles and sparking a standards-aligned learning moment.
No wonder over 94% of parents report increase confidence as a result of doing ParentPowered activities!
Sample Units are available below in multiple languages.
What Partners Are Saying About ParentPowered
I think ParentPowered is the best approach to family and community engagement I have seen. I have worked at the state and federal level as well as in districts, and family engagement is very difficult to achieve in districts with high poverty, high at-risk populations or just in areas where people are very busy and not as able to go to the school for events.
ParentPowered gives everyone concrete strategies to help their children with both specific academic skills and social emotional skills. It also gives parents important developmental information about their children as well as encouragement for the tough job of parenting. It's actually one of the only things I have purchased, in my 35 years of work in education, that every time I get something, I say to myself "that is so good; I am so glad we use this!" I love what you are doing!
"We need to invest in things that parents don't have to show up for, things that show up for parents in their homes."
"We've all miscalculated how desperately families really wanted something like this."
"Parents really appreciate that it is simple, doesn't require anything additional, and stays on their phone."
"The biggest surprise was how easy the process was."
"ParentPowered is a great way to remind families that as a Catholic church, we're rooting for them."
"The ParentPowered program is a resource for families that is practical and will actually help them advance their child's development not only academically but also socially and emotionally."
"What I love about it is that I can send out messages like 'we've got a meeting at this time and place.' And they all get it — Boom."
"It's not something that you have to manage. I don't have to worry about putting together the data. And I don't have to formulate a report - I love that part."
"I think ParentPowered fills a need that no other program I've been able to find to date can fill."
Low lift and high impact by design, ParentPowered is easy to implement in minutes. All while providing the most robust family outcomes data in the field.
Every ParentPowered program comes with implementation and data reporting supports, including:
One-click enrollment
Advanced data & analytics tools
Quarterly family engagement surveys, delivered by text
Teacher supports, including newsletters
Check out all of these features and more on the ParentPowered Dashboard.
What Families Say about ParentPowered Core
"Getting ideas to help them engage in conversation, understanding different objects and shapes the represent."
"They're always a good reminder to be intentional with my child when we do day-to-day activities."
"With the suggestions you suggest I use them right away & use them over & over. My daughter remembers repetition & she is progressing very well."
"It has increased her engagement with us and us with her, so that has been nice!"
"I have found ways for her to elaborate conversationally in ways I wouldn't normally have thought of."
"[ParentPowered] is the same as having a life coach.. .very well needed and appreciated."
"With working full time, picking up from daycare, there is precious little time in the evening to connect with the family beyond dinner, these ideas help 👍."
"I appreciate the thoughtful suggestions and recommendations as daily reminders to be proactive in my children's development."
"Nos van guiando a sacar provecho de cada cosa cada sonido todo lo enseñado aplica hasta para mi bebé que tiene 15 meses y se ven los resultados ([ParentPowered] guides us to take advantage of each thing, each sound. Everything they've taught applies even to my baby, who is 15 months old, and I can see the results.)"
"Que es muy importante la comunicación y también La forma de comunicarnos con los hijos pequeños para ayudarlos en su aprendizaje. ([I've learned] that communication is very important and also how to communicate with young children to help them in their learning.)"
Read More About Our
Impact
(Cortes, Fricke, Loeb, Song & York, 2019) This study compares the effects of an early childhood text-messaging...