See what low lift, high impact really means
Contact us to get started
Why ParentPowered Personalized Learning?
Every child follows their own unique path as they grow and learn. Providing every family with the right insights to help support their child on this journey is the purpose behind the ParentPowered Personalized Learning program.
ParentPowered Personalized Learning takes the next step in achieving best-fit tips and activity ideas by using screener results to individualize the program to the child.
This program draws on randomized controlled trial research showing that sending text messages to families based on their child's development level can increase child learning by more than 2-3 months (Doss, Fahle, Loeb & York, 2018).
ParentPowered Personalized Learning is available in English, Spanish, and Arabic.
The Personalized Learning Curriculum
ParentPowered Personalized Learning provides families with a whole child curriculum informed by Ages & Stages Questionnaires®, Third Edition (ASQ®-3) screener results. The screener results are used to personalize the program to the child.
Each family receives text messages that support healthy growth and development within all areas screened with ASQ-3: Communication, Gross Motor, Fine Motor, Personal-Social, and Problem Solving.
When screener results indicate that, in a given area, the child is…
Families receive…

Above the Cutoff

Fun hands-on activities to strengthen these abilities and build skills to come in this area

Close to the Cutoff

Fun everyday activities that support targeted developmental milestones within this area

Below the Cutoff

Activities that support parenting practices within this area. These messages focus on parental modeling and self-care, and do not require any response from the child.

Families also receive regular reminders about how to connect with a live person for support and further assessment.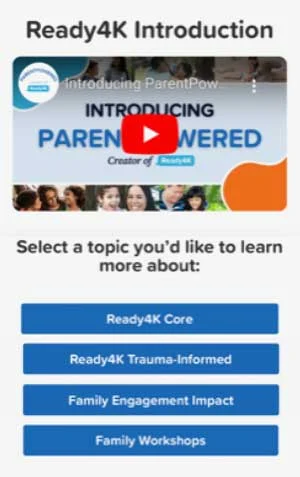 See Why Educators Love ParentPowered
Take a self-paced tour of the ParentPowered programs to answer questions like:
How does the evidence-based methodology work?
What do the families receive each week?
Which skills and content areas are covered in each curricula?
How do the curricula support classroom learning?
What does the implementation process look like?
What kind of data and reporting is included in the program?
What Education Leaders Say About ParentPowered
I think ParentPowered is the best approach to family and community engagement I have seen. I have worked at the state and federal level as well as in districts, and family engagement is very difficult to achieve in districts with high poverty, high at-risk populations or just in areas where people are very busy and not as able to go to the school for events.
ParentPowered gives everyone concrete strategies to help their children with both specific academic skills and social emotional skills. It also gives parents important developmental information about their children as well as encouragement for the tough job of parenting. It's actually one of the only things I have purchased, in my 35 years of work in education, that every time I get something, I say to myself "that is so good; I am so glad we use this!" I love what you are doing!
"We need to invest in things that parents don't have to show up for, things that show up for parents in their homes."
"We've all miscalculated how desperately families really wanted something like this."
"Parents really appreciate that it is simple, doesn't require anything additional, and stays on their phone."
"The biggest surprise was how easy the process was."
"ParentPowered is a great way to remind families that as a Catholic church, we're rooting for them."
"The ParentPowered program is a resource for families that is practical and will actually help them advance their child's development not only academically but also socially and emotionally."
"What I love about it is that I can send out messages like 'we've got a meeting at this time and place.' And they all get it — Boom."
"It's not something that you have to manage. I don't have to worry about putting together the data. And I don't have to formulate a report - I love that part."
"I think ParentPowered fills a need that no other program I've been able to find to date can fill."
Personalized Learning Partner
Support
Connect Families to Services
ParentPowered works with your team to identify the local referral services you can leverage to support families whose screener results indicate further assessment should be pursued.
Promote Ongoing Screening
At the end of the program, families receive a link to the next ASQ-3 screening, with a reminder that filling it out will allow us to continue sending messages based on their child's most up-to-date results. Their new results become the basis for another personalized program, beginning the following week.
What Families Say About ParentPowered Personalized Learning
"They remind me of ways that I can continue to support her growth and development!"
"The tips and activities provided in the messages have been easy to incorporate into our daily routine and have noticeably improved our interactions and has given us the opportunity to make our normal activities more fun."
"ParentPowered has helped a lot when she gets upset. Instead of getting upset she is now able to control her feeling by not getting frustrated but rather she will fold clothes or her favorite, matching socks and taking counting and taking 3 deep breaths"
"They have helped me be calmer dealing with him and they have helped me to help him communicate better with others"
"After doing activities together I believe our relationship is stronger. Her communication skills are growing every day and everything I do to encourage them helps!"
"There is an over-saturation of things to read and you can feel inadequate. Getting these texts feel like reassurances."
Read More About Our
Impact
(Cortes, Fricke, Loeb, Song & York, 2019) This study compares the effects of an early childhood text-messaging...