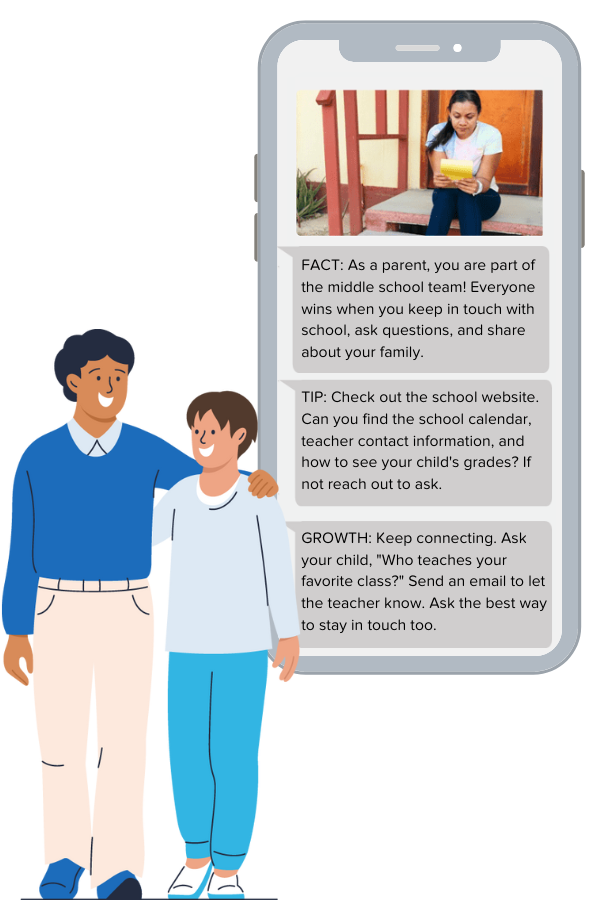 Get Started with Low-Lift, High-Impact Family Support — at No Cost!
Fill out the form to schedule a call and personalized tour of ParentPowered. If you're ready to enroll your families, we can help you get started right away!
Highly Accessible,
Evidence Based

, Hands Off — and Proven to Positively Impact Outcomes for Children

More than 95% of families use text messaging, which is why ParentPowered uses text to deliver information, tips, and strategies directly to families each week. Once you've enrolled your families (in one simple step), sit back and let ParentPowered do the rest.

Each message supports healthy child development with actionable insights, research-based activities, and learning extensions that are:
Fast and fun to do for kids and their grownups
Accessible to everyone — no extra materials required
Strengths based and easily integrated with existing family routines
Tailored to each child's age, from birth to 8th grade
Available in multiple languages
Watch an
Overview

of the Wisconsin ParentPowered Family Engagement Program

Tune in to self-guided tour of ParentPowered. You'll learn what low-lift, high-impact family support looks like and the impact of the program on family engagement and student learning.
Parents found Ready4K* texts helpful in engaging children in early math skill building.
Source: Zuckerberg San Francisco General Hospital study
Parents report that ParentPowered helps make learning a part of their daily lives.
Made Learning a Part of Every Day
Source: ParentPowered national longitudinal family survey
The Ready4K* approach outperformed other digital family engagement tools in a head–to–head study.
Found Activities Easy To Do
Source: Minnesota early education study
* The Ready4K approach is the basis for all ParentPowered programs. Visit our Research page for more details.
Support Families & Healthy Child Development with

ParentPowered
The Wisconsin Department of Children and Families covers the cost of ParentPowered evidence-based family support programs.
ParentPowered Core
Developed by educational researchers, ParentPowered Core is aligned to Wisconsin state learning standards and the Head Start Early Learning Framework.
Families receive three text messages per week that support whole child development. Explore the age-appropriate content:
Ages 0-3
Social Emotional Learning

Approaches to Learning

Language & Literacy

STEAM & Play

Physical Development
PK3 & PK4
Social Emotional Learning & Health

Language & Literacy

Math & Science

Technology and Engineering & the Arts

Play

Approaches to Parenting

Home & School Connections
Kindergarten-5th grade
Social Emotional Learning

English Language Arts

Math & Science

Approaches to Parenting

Home & School Connections
6th–8th grade
Social Emotional Learning & Health

Academic Supports

Home & School Partnerships

Approaches to Parenting
Available in English, Spanish, Chinese, Arabic, Vietnamese, Hmong, Russian, Polish, and Burmese.
ParentPowered Trauma-Informed
Purposefully designed to support families impacted by trauma, ParentPowered Trauma-Informed provides tools and insights to help families buffer the effects of trauma and navigate challenge and adversity.
Just like ParentPowered Core, families will receive information and easy tips each week via text message to strengthen the Protective Factors — the five characteristics or strengths that can prevent or reverse the damaging effects of trauma.
The content has been vetted by mental health experts, community health workers, and families impacted by trauma to ensure activities:
Avoid potential triggers
Map to different lived experiences
Are doable even during challenging times
Available in English, Spanish, and Polish.
Local Resources Just for Wisconsin Families
Specially curated for Wisconsin families, the program also delivers a series of messages with local resources, including:
Parental support and self-care

Department of Children and Families resources

Childcare resources

Basic needs assistance
Families Across Wisconsin Are Helping Their Children Learn and Grow with Support from ParentPowered
"Getting ideas to help them engage in conversation, understanding different objects and shapes the represent."
"They're always a good reminder to be intentional with my child when we do day-to-day activities."
"With the suggestions you suggest I use them right away & use them over & over. My daughter remembers repetition & she is progressing very well."
"It has increased her engagement with us and us with her, so that has been nice!"
"I have found ways for her to elaborate conversationally in ways I wouldn't normally have thought of."
"[ParentPowered] is the same as having a life coach.. .very well needed and appreciated."
"With working full time, picking up from daycare, there is precious little time in the evening to connect with the family beyond dinner, these ideas help 👍."
"I appreciate the thoughtful suggestions and recommendations as daily reminders to be proactive in my children's development."
"Nos van guiando a sacar provecho de cada cosa cada sonido todo lo enseñado aplica hasta para mi bebé que tiene 15 meses y se ven los resultados ([ParentPowered] guides us to take advantage of each thing, each sound. Everything they've taught applies even to my baby, who is 15 months old, and I can see the results.)"
"Que es muy importante la comunicación y también La forma de comunicarnos con los hijos pequeños para ayudarlos en su aprendizaje. ([I've learned] that communication is very important and also how to communicate with young children to help them in their learning.)"
"Loved the positivity and loved taking care of parents being part of the equation."
"I take these activities as quick tips, pointers, and a daily read. Every day I scroll through the text feed when I hear the notification bell I automatically want to exercise an endeavor for my children to perform. Especially when I get up in the morning I read the FACTS text and act out a task."
"I can see that [ParentPowered] has increased her knowledge of numbers and groups. It has also helped her vocabulary."
"They show the value in how normal, little actions and activities help in my children's growth and development."
Preview
Messages
Each message is strengths-based, easy to understand, and gives families that "I can do it!" feeling. All while sparking a Wisconsin standards-aligned learning moment.
No wonder over 91% of families report increased confidence in their ability to support their child's learning as a result of support from ParentPowered's evidence-based programs.
Trauma-Informed | Elementary
Trauma-Informed | Middle School
Getting Started Is
Simple

.
And ParentPowered Keeps It That Way Year-Round.
The Wisconsin Department of Children and Families sponsored ParentPowered family engagement program is available at no cost to school districts, individual schools, childcare providers, and Head Start programs.
Start providing your families evidence-based support now.
Enroll families with one click.
Sit back and let ParentPowered do the rest!
In addition to the weekly text messages sent to families, your organization will receive:
Advanced data & analytics tools
Quarterly family engagement surveys, delivered by text
End-of-Year impact reports
Teacher supports, including newsletters
All of these features and more are available on the ParentPowered Dashboard. Check it out.
We Are Proud to Partner with These Leading Wisconsin Organizations