Empower Families and Improve Outcomes for All Children
Low lift, evidence-based family engagement
Educators are busy. Families are busy. Yet, strong relationships with families are critical to support healthy child development and academic success. ParentPowered digital family engagement programs provide weekly support and resources to families with children birth-12th grade – all without increasing your team's workload.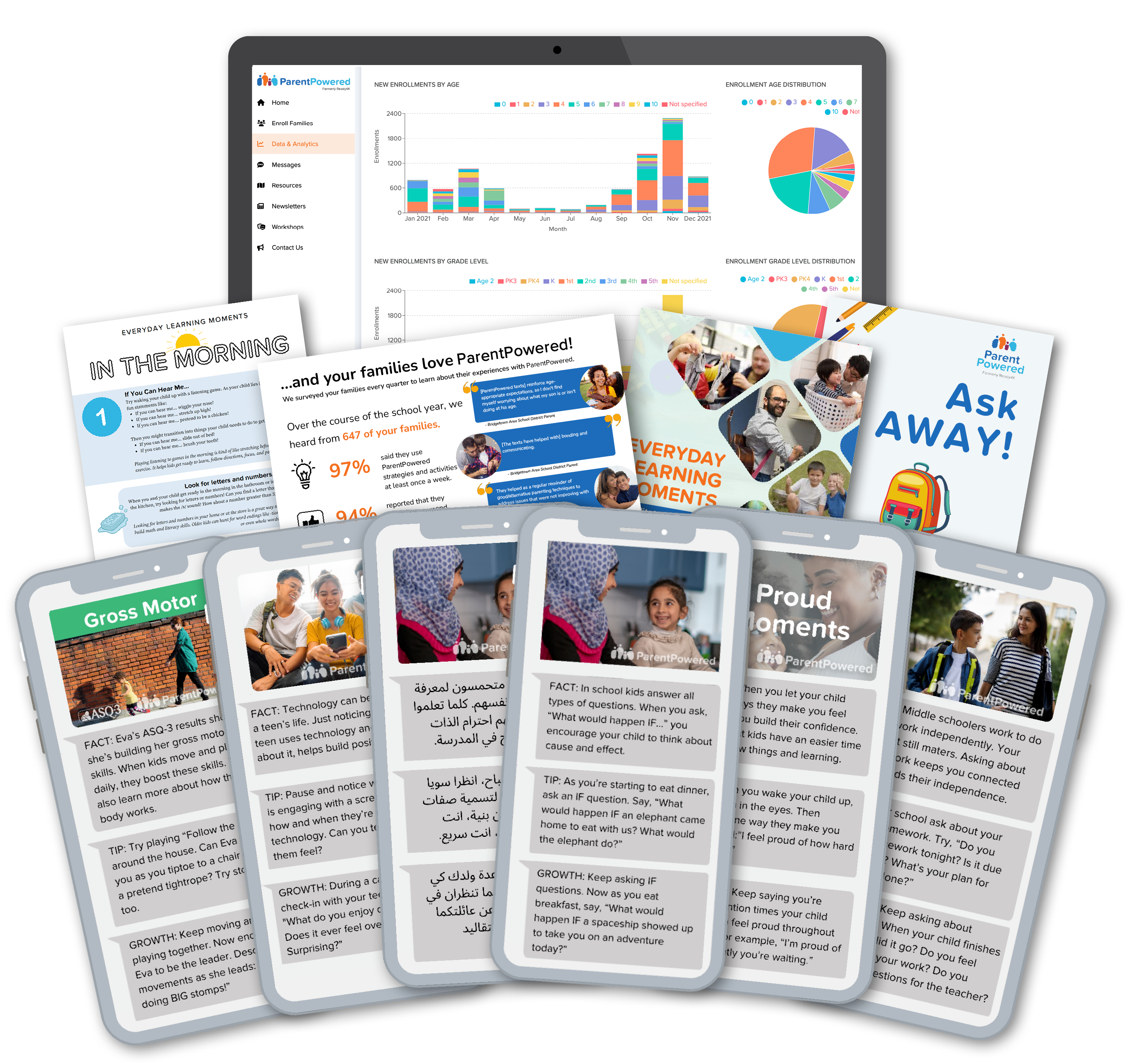 Rooted in Research. Proven in Practice.
Accessible
Each week, enrolled families receive text messages with actionable insights, research-based activities, and learning extensions. More than 95% of families use text messaging, which makes it the best way to provide every family with year-round support. ParentPowered curricula is available in 10+ languages so no family is left out.
Strengths-Based
ParentPowered programs give families that "I can do it!" feeling by providing strengths based tips and simple activities that fit seamlessly into everyday moments. Our three curricula — Core, Trauma-Informed, and data-driven Personalized Learning — enable your organization to provide tailored support based on family need. Only ParentPowered offers curricula for families working to overcome the trauma of adverse childhood experiences (ACEs) and for families with children with potential developmental delays.
Low Lift
Enroll families in ParentPowered programs with just one click then sit back while we deliver weekly support that has been shown to result in as much as 2–3 months of additional learning growth over the course of a school year.
The ParentPowered Dashboard provides access to all the data you need to efficiently manage enrollment, assess the impact of the program, and produce presentation quality data visualizations for your team or external stakeholders. Plus, you can access family resources, teacher newsletters, workshop guides, enrollment flyers, and other ParentPowered resources.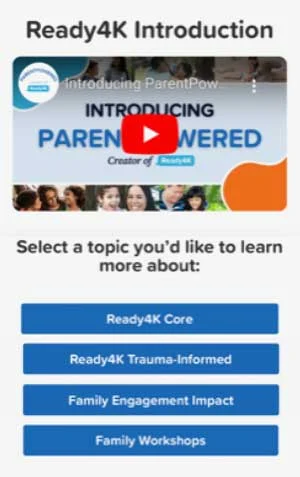 See Why Educators Love ParentPowered
Take a self-paced tour of the ParentPowered programs to answer questions like:
How does the evidence-based methodology work?
What do the families receive each week?
Which skills and content areas are covered in each curricula?
How do the curricula support classroom learning?
What does the implementation process look like?
What kind of data and reporting is included in the program?
"I think ParentPowered fills a need that no other program I've been able to find to date can fill."
Dr. Wai'ale'ale Sarsona
Vice President of the Hi'ialo Group for Kamehameha Schools
Who We
Serve
ParentPowered partners with schools and districts, states agencies, Head Start programs, and community organizations from diverse rural, urban, and suburban settings across the United States, including those working to overcome the trauma of adverse childhood experiences (ACEs).
Our programs, which include ParentPowered Core, ParentPowered Trauma-Informed, and ParentPowered Personalized Learning, support families from birth through 12th grade in more than 10 languages. For partners serving families with unique needs, additional cultural and linguistic options are also available.
Schools & Districts
Standards-aligned programs that activate families as PK-12th grade learning partners, meeting multiple ESSA and ESSER requirements.
State Agencies
Flexible, standards-aligned family engagement that easily scales to reach your birth-to-12th grade learning goals.
Head Starts
Head Start-aligned programs that elevate your family engagement strategy, including the one-of-a-kind ParentPowered Trauma-Informed.
Communities
Make it easy to give families and children the extra support they deserve — and amplify the impact of your family support programs.
What Parents Are Saying About ParentPowered
"Getting ideas to help them engage in conversation, understanding different objects and shapes the represent."
"They're always a good reminder to be intentional with my child when we do day-to-day activities."
"With the suggestions you suggest I use them right away & use them over & over. My daughter remembers repetition & she is progressing very well."
"It has increased her engagement with us and us with her, so that has been nice!"
"I have found ways for her to elaborate conversationally in ways I wouldn't normally have thought of."
"[ParentPowered] is the same as having a life coach.. .very well needed and appreciated."
"With working full time, picking up from daycare, there is precious little time in the evening to connect with the family beyond dinner, these ideas help 👍."
"I appreciate the thoughtful suggestions and recommendations as daily reminders to be proactive in my children's development."
"Nos van guiando a sacar provecho de cada cosa cada sonido todo lo enseñado aplica hasta para mi bebé que tiene 15 meses y se ven los resultados ([ParentPowered] guides us to take advantage of each thing, each sound. Everything they've taught applies even to my baby, who is 15 months old, and I can see the results.)"
"Que es muy importante la comunicación y también La forma de comunicarnos con los hijos pequeños para ayudarlos en su aprendizaje. ([I've learned] that communication is very important and also how to communicate with young children to help them in their learning.)"
Improve Outcomes with Evidence-Based ParentPowered Programs
2 to 3 Months Additional Growth
First studied at Stanford in randomized control trials, the ParentPowered approach has been shown to increase student growth by 2 to 3 months over a school year. 
Explore the research behind the ParentPowered approach, which meets the most rigorous ESSA and Head Start standards.
98% of Families Report Child Growth
Over 150,000 parent survey responses show that ParentPowered messages increased the confidence of 94% of parents; strengthened 97% of parent-child relationships; and 98% families say ParentPowered helped their child grow.
Check out our Impact page to see more survey results.
ParentPowered programs are designed with an access-first approach. From writing the curriculum, to delivering it straight into parents' pockets, to making it easy for partners to get families started — every element of our program is informed by our commitment to equity and access.
Read More About Our
Impact
Did you know that adolescent family engagement is crucial to student success? Learn how ParentPowered supports parental involvement in middle school learning.
What Partners Are Saying About ParentPowered
I think ParentPowered is the best approach to family and community engagement I have seen. I have worked at the state and federal level as well as in districts, and family engagement is very difficult to achieve in districts with high poverty, high at-risk populations or just in areas where people are very busy and not as able to go to the school for events.
ParentPowered gives everyone concrete strategies to help their children with both specific academic skills and social emotional skills. It also gives parents important developmental information about their children as well as encouragement for the tough job of parenting. It's actually one of the only things I have purchased, in my 35 years of work in education, that every time I get something, I say to myself "that is so good; I am so glad we use this!" I love what you are doing!
"We need to invest in things that parents don't have to show up for, things that show up for parents in their homes."
"We've all miscalculated how desperately families really wanted something like this."
"Parents really appreciate that it is simple, doesn't require anything additional, and stays on their phone."
"The biggest surprise was how easy the process was."
"ParentPowered is a great way to remind families that as a Catholic church, we're rooting for them."
"The ParentPowered program is a resource for families that is practical and will actually help them advance their child's development not only academically but also socially and emotionally."
"What I love about it is that I can send out messages like 'we've got a meeting at this time and place.' And they all get it — Boom."
"It's not something that you have to manage. I don't have to worry about putting together the data. And I don't have to formulate a report - I love that part."
"I think ParentPowered fills a need that no other program I've been able to find to date can fill."
We've sent over 125 million ParentPowered messages to 900,000+ families with fun facts, easy tips, reinforcement, encouragement, and pedagogically-scaffolded extension activities to help parents support their children's development by building on everyday learning opportunities.